Mollie O'Brien & Rich Moore
Mollie O'Brien and her husband, guitarist Rich Moore, have for nearly 30 years 
quietly made it their mission to find, mine and reinvent other artists' songs.
They are geniuses at the craft of interpretation in the way that great singers, 
since the beginning of popular American music, have made the songs of their 
era their own. As songwriters they add their own tunes to the canon of 
American roots music they inhabit and show us they're completely at home 
with their musical selves.
Grammy winner Mollie has long been known as a singer who doesn't 
recognize a lot of musical boundaries, and audiences love her fluid ability to 
make herself at home in any genre while never sacrificing the essence of the 
song she tackles. She is a singer at the very top of her game who's not afraid 
to take risks both vocally and in the material she chooses.
Rich, while known to produce some of the funniest onstage running 
commentary, is also a powerhouse guitar player who can keep up with 
O'Brien's twists and turns from blues to traditional folk to jazz to rock and roll. 
He creates a band with just his guitar and, as a result, theirs is an equal 
partnership.
Their latest release is Love Runner on Remington Road Records.
Photo by David Burns
On
Saturday, August 15, 
the Peacham Acoustic Music Festival is honored to present Mollie O'Brien and Rich Moore 
---
Bob Amos's new CD Sunrise Blues was released at a special concert last June to a packed house of over 300 people in St. Johnsbury Vermont. This new album includes 10 original compositions plus new versions of two bluegrass classics. Initial reviews have been terrific!
Bob Amos's previous CD, Borrowed Time received terrific reviews (see CDs page) and airplay on bluegrass radio shows across the USA. In the liner notes Lynn Morris (Lynn Morris Band, 3 time IBMA female vocalist of the year) and Marshall Wilborn (Lynn Morris Band, Johnson Mountain Boys, Long View, IBMA bassist of the year) have said: " 'Borrowed Time' is Bob Amos's first bluegrass outing since the last Front Range CD in 2003, and we must say he's hit a home run!! We love this CD!"
From 1988-2004 Bob was the lead singer, guitarist and guiding force behind the internationally acclaimed bluegrass band Front Range, which recorded 7 CDs, including 5 for famed acoustic Indie label SUGAR HILL RECORDS. Front Range toured throughout America and Europe, and received heavy airplay on Acoustic, Americana and Bluegrass radio stations. Their CD One Beautiful Day won the International Bluegrass Music Association's Gospel Recording of the Year in 1995.
 SINGOUT! magazine reviewer John Lupton has called Bob "one of the most consistently interesting and intelligent songwriters in American music."
Bob's current band, Bob Amos & Catamount Crossing features lots of Bob's terrific original material, plus some innovative arrangements of classic tunes and songs. Bob's daughter Sarah Amos plays a big part in the band's signature big vocal sound, and their duets are proving to be big hits in their performances!  


On Friday, August 14, the Peacham Acoustic Music Festival is proud to present Bob Amos and Catamount Crossing.  
---
Bob & Sarah Amos present a wide variety of songs in an intimate style, with mezmerizing vocal harmonies accompanied by Bob's formidable guitar talents. Bob has written and recorded over 100 songs on 12 CDs over the past 30 years. His songs reflect many influences and styles including folk, bluegrass, blues, Celtic, pop and rock-a-billy. Vocalist Sarah Amos has been singing professionally for over 10 years, and currently performs with her father in the bluegrass band Bob Amos & Catamount Crossing. In their duo show Bob and Sarah step outside of their regular bluegrass setting, performing a wider selection of songs from Bob's diverse musical catalog, plus a few of their favorite traditional and more modern covers.
On Saturday afternoon, August 15, don't miss Bob and Sarah Amos as they perform in their father/daughter duo
---
Jamie Masefield and Doug Perkins with Special Guest, Robinson Morse
Trekking the worlds of jazz, bluegrass, and Latin with Vermont-grown flavor and improvisational mastery, Masefield & Perkins with bass man extraordinaire, Rob Morse will exhilarate the audience with their acoustic chops. This is the second time these luminaries of the local and regional jazz and bluegrass scene will play together at the Peacham Acoustic Music Festival performing strikingly original pieces as well as Bird and Monk, and Mingus.
Jamie Masefield is the founder and leader of the eclectic Jazz Mandolin Project, an acoustic jazz fusion group that has played around the country and recorded multiple studio albums. Now Jamie tours with his group Masefield Perkins Fishman Bolles. In addition to being an accomplished musician, Jamie works as a certified dry stone mason.
Doug Perkins is a virtuosic acoustic guitar player, whose high octane chops have enlivened many of Vermont's most popular bands, over his several decades as a working musician in the state. His powerful and subtly expressive technique and composing in diverse genres including jazz, bluegrass and classical, was recently recognized for its excellence when his first solo effort Music for Flat-top Guitar on Thunder Ridge Records was designated "Best Instrumental Album" of 2012 by the Barre-Montpelier Times Argus. Doug is an unparalleled master of the steel string guitar and has brought the instrument into a new relationship with modern styles of music.
Robinson Morse was born and raised in the independent republic of Vermont in a musical family.  Morse spent some years in New York studying bass with John Patitucci and honing his composition chops at City College.  Rob has been performing and recording with a ton of innovative folks and genre benders like Michael Chorney, Taylor Haskins, the Dupont Brothers and many more.   After establishing himself as a flexible and supportive sideman with artists from Anais Mitchell of Hadestown fame and Ray Vega to Arturo, Adam and Zack O'Farrill, Morse recently released his first recording as a leader with the Sound of Mind Medium Big Band.  When not traveling or performing Rob works as a luthier in a small cello and bass shop in the hills of Vermont. 
                                On Saturday, August 15, the Peacham Acoustic Music Festival is pleased to welcome back 
Jamie Masefield and Doug Perkins with special guest Robinson Morse
---
Drawing from their backgrounds in classical,jazz and traditional Quebecois music, Élisabeth Moquin, Thierry Clouette and Élisabeth Giroux have come together in 2015 to create a new and exciting group. The instrumentation of their unique and modern sonority consists of fiddle, cello, bouzouki, voice, foot-tapping and step dancing. É.T.É's performances and creations are dynamic and modern! No matter where they go, audiences appreciate their amazing energetic style, performance complicity and their up-to-date musical style.
With the experience gained with the tour of the first album, the young group presents a brand-new show around the theme of the rose. The three musicians offer daring and refined arrangements of pieces from the traditional Quebec and Acadian repertoire, as well as original compositions. A show where voices intertwine through songs of impossible loves. The impressive playing of the violin, Irish bouzouki and cello is breathtaking, not to mention the complicity of the overflowing performers.
CRITICS
Every title on this new album boasts a tangible audacity. Élisabeth Giroux, Thierry Clouette and Élisabeth Moquin create a new repertoire while fiercely igniting that of yesteryear. The trio represents the new guard of the trad music.
François Marchesseault
Ici Musique, Radio-Canada
​Élisabeth Moquin, Thierry Clouette and Élisabeth Giroux together form the band ÉTÉ. This is the wonderfully lively traditional music of Québec, arranged for cello, fiddle, feet and bouzouki. Their showcase was terrific, even though the room was too small for the astounding step dancing that is usually Élisabeth Moquin's trademark. But even without that, this band makes you sit up and take notice. Gorgeous three-part harmonies and simply excellent arrangements making full use of the cello make this band really outstanding. We thoroughly enjoyed their showcase.
Elizabeth Szekeres
Roots Music Canada
É.T.É. made it's debut at the 27th annual New World Festival this September. This talented and engaging trio was a big hit with our audiences. Their creative arrangements reflect a contemporary vibe without losing the connection to it's traditional roots. Their stage presence is delightful, their vocals are beautiful and Élisabeths dancing is a joy to watch. And when a problem arose at the stage they were to perform on late in the day, they were very gracious and set up on the steps of the venue. So instead of there being a problem, we were treated to a impromptu and beautiful set under the stars. Throughout the Festival process they were a pleasure to work with. I look forward to having Élisabeth, Thierry and Élisabeth, three wonderful people, back again very soon!
Kevin Dunwoody
The New World Festival, Randolph Vermont
On Friday, August 14 & Saturday, August 15 the Peacham Acoustic Music Festival
is pleased to welcome ÉTÉ!
---
A native of Newfoundland, Keith's traditional song repertoire is based in Eastern Canada and Quebec as well as his current home, Vermont. His direct and intimate style of traditional singing in English and French infuses old ballads and songs with a powerful immediacy while his rhythmic and percussive finger style of guitar playing brings new shape and color to his songs. His 2005 album, Bound for Canaan showcased his refined sense of balance between innovation and tradition while Suffer No Loss (2014) is a beautifully spare recording in the style of early classic recordings of the traditional English and Celtic music revival. His most recent solo recording is  Land of Fish and Seals (2018) – an ever tasteful mix of traditional and tradition-inspired songs in English and French with an impressive list of guest artists – Becky Tracy, Yann Falquet, Pascal Gemme, Rani Arbo and Mark Roberts.
Keith was a founding member of Nightingale, a trio which broke new ground in its sophisticated approach to traditional music. He is a mainstay of the Boston fiddle extravaganza, Childsplay and has also worked extensively with Tony Barrand on the song repertoire from the early twentieth century of the Atwood family from Dover, Vermont. 
Keith is an accomplished composer and arranger in the realm of traditional music and has also composed for theater and film. He is a featured performer on well over a dozen recordings and a guest musician on numerous others. His versions of traditional songs have inspired recordings by other groups including Solas, Uncle Earl and Great Big Sea. Several of his compositions have been featured on the recent Ken Burns' documentary on the Roosevelts.
Keith is a faculty member of the Brattleboro Music Center (BMC) and the artistic director of the BMC's Northern Roots Traditional Music Festival in Brattleboro Vermont which he founded in 2008. He was a featured performer in the Boston Revels 2016 Christmas show and he is the music director for the WGBH Boston public radio's annual Celtic Sojourn St Partick's Day concerts held at Sander's Theater and elsewhere in New England.
Keith will also be joined by his wife, fiddler Becky Tracy.   Becky has a distinctive clarity of tone, a rhythmic attack owing much to French Canadian playing and the melodic quality of Irish music. Her sound is unmistakable. Together Becky and Keith are dynamic performers of traditional music from Newfoundland, Quebec, Ireland, France and beyond. Tracy's fiddling pulses through tasteful arrangements of dance tunes and resonates with beauty on traditional slow airs. Keith's gentle and expressive singing in English and French is balanced by the drive and power of his guitar playing and foot percussion. Combined, they produce a range and richness of sound that is striking for a duo. Their playing is seamless, the result of years of playing together and touring across the U.S., Canada and in Europe. 
After 10 years away from the Peacham Acoustic Music Festival Stage - we are pleased to welcome back Keith Murphy and Becky Tracy!
On Friday evening, August 14 Keith will perform a solo set in the Church &  
On Saturday afternoon, August 15, Keith and Becky will be performing together also in the Church 
---
"This Vermont band embodies all the beauty of American roots music."
— LE DEVOIR, QC, CAN
Vermont's own trad-roots power trio! Composed of acclaimed musician Pete Sutherland, his talented protégé Oliver Scanlon and the uber-dynamic Tristan Henderson, Pete's Posse never fails to surprise and excite! Twin fiddles in tight, wild harmony over high-powered guitar and pounding foot percussion with mandolin, clawhammer banjo, jaw harp, rocking keyboards, and soaring vocal harmonies adding color to the Posse's sonic landscape. 
With a steady flow of powerful uplifting energy that spans their age gap, they tap into many traditions from the north to south, and east to west, to distill a distinct sound that is completely their own. The Boston Irish Reporter recently proclaimed the Posse puts forth "(a) kaleidoscope of sounds and styles with equal parts amiability and energy."
 Since 2014 the Posse has racked up over 150,000 miles of touring, released 5 albums, and played numerous festivals including Shetland Folk Festival, Festival Memoire et Racine, New Bedford Folk Festival, and more!  
The Posse's signature is variety: all multi-instrumentalists, the band plays a dynamic repertoire of folk-roots genres; songs and tunes, traditional and original. For over four years they've been bringing their brand of 'Neo-Traditional Folk' to festival stages, dance halls and concert series across the US, Canada and Europe.
On Friday, August 14 & Saturday, August 15 the Peacham Acoustic Music Festival
is pleased to welcome back Pete's Posse!
---
"Smokey and sweet – like the finest aged whiskey – that's what Carl and Erynn's singing and playing brings to mind.  A lovely touch in their playing and a beautiful melding of melancholy and cheerfulness which is exactly what I love to hear." 
– John Doyle (2015)
"Marshall & Jones are not to be mistaken for anyone or anything else. More than ordinarily gifted, they find new truths in a musical style already notably devoid of falsehoods.    – Jerome Clark Rambles.net (2015)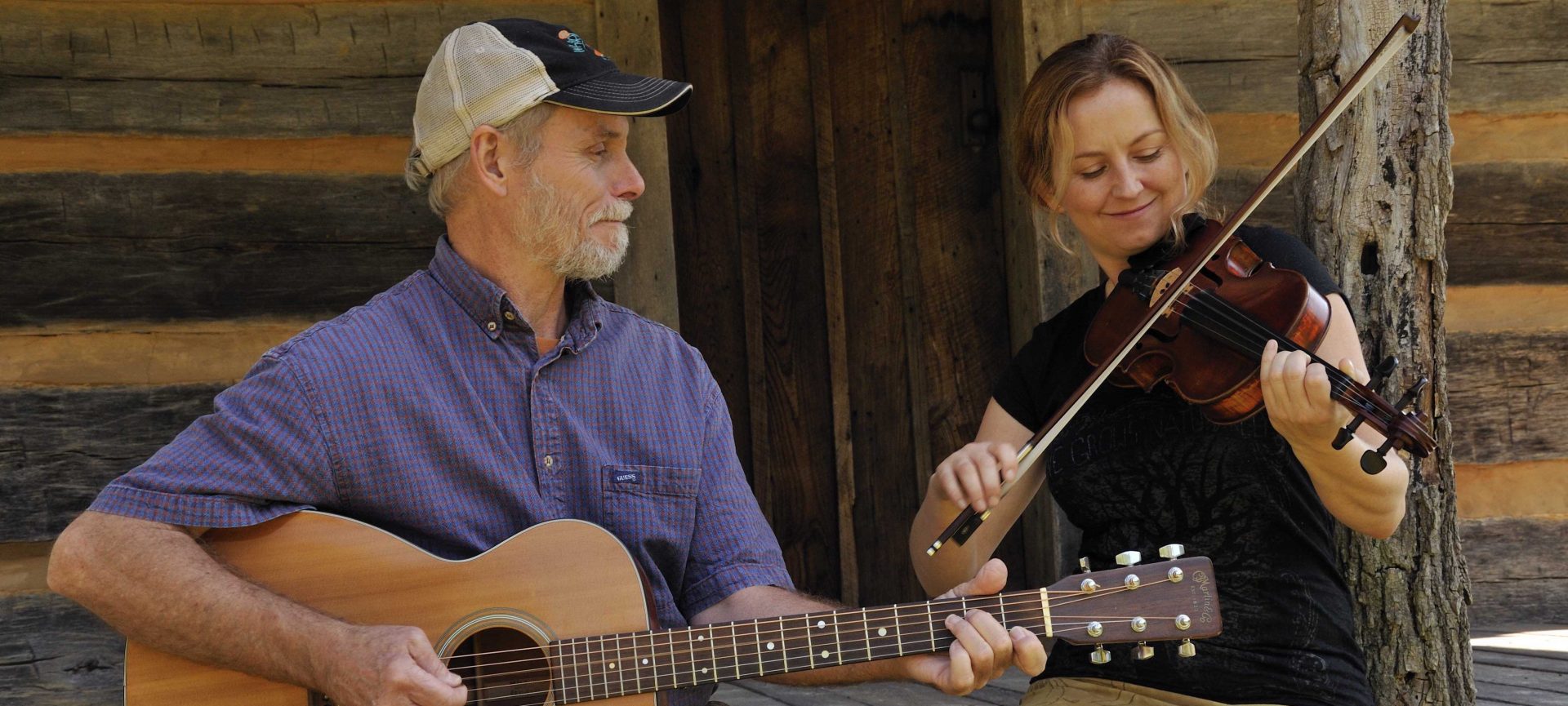 Erynn Marshall and Carl Jones are old-time musicians and inspired tunesmiths from Galax, Virginia. They are married – in life and music. Southern song-duets and powerful fiddle, guitar, mandolin, banjo tunes comprise their diverse sets. Erynn and Carl play with spontaneity and vitality. While rooted in the traditional sounds of older players, this duo stays true to their own muse by composing new, tradition-rooted music. Carl's song, Last Time on the Road was featured on the grammy-award winning album "Unleashed" by the Nashville Bluegrass Band. They have won many awards for their playing including Erynn's 1st place fiddle win at Clifftop and Carl's 3rd place fingerpicking-guitar win at Winfield – both premier festivals in the United States. They have 15 recordings between them including their duet CD Sweet Memories Never Leave. Erynn and Carl have recently toured in the US, Canada, Europe, Australia and China. 
Erynn Marshall is an old-time fiddler who lives in Galax, Virginia and is known internationally for her traditional music. Erynn learned the nuances of Appalachian old-time fiddling from rare recordings and visiting 80-95 year-old southern fiddlers. Still she puts her own spin on the traditional music she plays – sounding authentic, archaic and transportive while playing in a smooth and effortless way. Her tunes are becoming common repertoire in fiddle circles. Erynn won 1st place fiddle at "Clifftop" (The Appalachian Stringband Festival) and was the first woman to do so. She has recorded six albums and appeared in five films (Voices of Virginia, the Clifftop Experience I'll Fly Away Home, Conversations with Old-Time Musicians," plus the upcoming Never Met a Stranger). She is coordinator for Swannanoa Old-Time Week near Asheville, NC.
Carl Jones is an American songwriter and multi-instrumentalist. Born in Macon, Georgia, Carl presently lives in Galax, Virginia. He studied music near Muscle Shoals, Alabama and was influenced by seeing Roy Orbison, Steve Goodman, and Mac Macanally record there. Carl is widely respected for his instrumental talents and original songs about the joys and tribulations of day-to-day life in the South. Carl's songs have been recorded by The Nashville Bluegrass Band, Kate Campbell, Rickie Simpkins with Tony Rice, and others. His song Last Time On The Road was on the grammy-award-winning album Unleased by the Nashville Bluegrass Band. In the 1980's he played mandolin with James Bryan, Norman and Nancy Blake as part of the Rising Fawn String Ensemble.  Carl is known for his fine musicianship, charismatic teaching, sense of humor, and powerful songwriting. He has recorded on a couple dozen recordings including his original songs CD "Traveling Star" and Norman Blake's "Original Underground Music of the Mysterious South." 
"You can hear love, intention, generosity, humor and soul in the music of Erynn Marshall and Carl Jones. They welcome us in and awaken a deep sense and feeling for traditional music that is carved right into our bones." – Dirk Powell (2015)
On Friday, August 14 & Saturday, August 15 the Peacham Acoustic Music Festival
is pleased to welcome back Erynn Marshall & Carl Jones!
---
Colin McCaffrey is a native Vermonter, songwriter, multi-instrumentalist and record producer who has worked on hundreds of regional recordings and live productions. Lending his smooth voice and string wizardry to the best music coming out of these hills, Colin McCaffrey is what the Burlington Free Press calls "A Green Mountain treasure worth unearthing."   Colin has played at PAMFest on several occasions as a sideman to some great performers - this year he is performing as a featured act and we are excited to witness his solo magic.
Colin was born just after the full moon on September 7th in Brattleboro, Vermont. The second of four children, he started playing piano, guitar and violin at a young age; performing music with his family throughout Vermont and New Hampshire.
Colin graduated from Kimball Union Academy in 1986 and went on to complete a BA in music composition at Berklee College of Music in Boston. After graduating with honors in 1990, he moved back to central Vermont. Colin stays busy as a performer, songwriter, composer and arranger, studio musician, sound engineer, and producer, and teacher.
Colin lives beside the picturesque Winooski River in East Montpelier, Vermont with his wife, author Laura Williams McCaffrey, his daughters Cerridwyn and Magdalene, their dog Gwendolyn, and their cat Loki. He loves - in his precious spare time - to fish, hunt, gather, sketch and paint.
The Peacham Acoustic Music Festival is pleased to welcome Colin McCaffrey
on Friday, August 14 & Saturday, August 15
---
Jason Bergman -The Primal Boys
Presenting American roots music, blues and bluegrass, the Primal Boys are Russell Seeger, guitar, and Jason Bergman, fiddle, with special guest percussion
ist Larry Eagle.
Seeger is a talented songwriter and guitarist who's been around the New York scene since the 1970s when he was a member of the Sheiks. He recently released "Live in Peace" on Paradiddle Records, and had appeared on their Bob Dylan and the Kinks tribute albums. As a member of the Last Hombres, Seeger has toured the US, recording the album "Redemption" with drummer Levon Helm. Seeger has also performed with the Kennedys, Peter Rowan, Vassar Clements, John Hartford and Paul Seibel.   Bergman became a Barnet resident after performing on five continents as half the New York duo Jason 'n' Grayson. Here in Vermont he has been a member of Banjo Dan and the Midnight Plowboys, and the Woods Tea Company, as well as recording and performing with Colin McCaffrey, Patti Casey and Patrick Ross to name a few. Bergman is also a member of the Vermont Philharmonic and the Montpelier Chamber Orchestra. He has a thriving presence as a music teacher at the St. Johnsbury Academy and at his studio in Barnet.
Drummer and percussionist, Larry Eagle keeps his musical portfolio diversified. He's a founding member of Bruce Springsteen's Seeger Sessions Band (Grammy winner for traditional folk music) and played drums on pop star John Legend's Grammy nominated second album. The 2013 Andy Statman album Superstring Theory is a quintet record featuring Andy Statman, Jim Whitney, Eagle and special guests Tim O'brien and Michael Cleveland. Eagle had recorded albums with artists as diverse as country\bluegrass superstar Ricky Skaggs and powerful jazz\soul singer Lizz Wright. Eagle has performed on the Tonight Show, Late Night with Conan O'Brien, Good Morning America, PBS, the BBC and an ice-breaking Baltic Sea ferry out of Naantali, Finland.
The Peacham Acoustic Music Festival is pleased to welcome Jason Bergman and the Primal Boys
on Friday, August 14 & Saturday, August 15
---
Wild Asparagus  Wild Asparagus Web Page
Wild Asparagus is a five-person band from Western Massachusetts. Drawing upon music from New England, the British Isles, and Canada, as well as classical sources, Wild Asparagus takes an original approach to the traditional dance music of our folk heritage. Using their unique blend of instruments, creativity, and skills, they offer a sensitive and powerful performance. Since 1984, Wild Asparagus has been highly successful in bringing their music to dances and concerts throughout the United States.
    George Marshall - Dance Caller Extrordinaire!
Wild Asparagus                                          Photo by Toby
The heartbeat of Wild Asparagus is Ann Percival on piano, guitar, and vocals. Ann's playing is highly inventive while still maintaining an irresistible rhythm. David Cantieni, a wood-wind wizard, pours forth lively melodies and liquid harmonies on his flutes, tin-whistle, oboe, saxophone and bombard. Becky Tracy's masterful fiddling is that rare combination of energy and beauty. George Marshall is an accomplished English concertina player and also provides driving rhythms on bodhran and bones. We usually play with a bass player, some of our regular players include Corey DiMario, Mark Murphy, Harry Aceto and Ralph Gordon among others. George also provides excellent instruction and calling for New England style contras.
The Peacham Acoustic Music Festival is pleased to have Wild Asparagus with George Marshall leading our dances                           on Friday, August 14 and  Saturday, August 15
---
Stuart Paton of Burlington Taiko
Stuart Paton, Founder and Artistic Director of Burlington Taiko spent most of his childhood in Japan, from age nine months through eighteen years. His earliest exposure to taiko included a first-grade fascination with the drums at an Obon celebration in Tokyo, and learning "Matsuri Daiko" from the composer of the score for his high school drama production. His formal study of taiko began in 1984 during a summer apprenticeship with Grandmaster Seiichi Tanaka, the founder of the first taiko group in North America (San Francisco Taiko Dojo), and he founded the Burlington Taiko Group in 1986 not long after settling in Vermont.
Paton Sensei has established an artistic style for Burlington Taiko that combines movement, rhythm, voice, and the efficient and graceful movement of chi, or "energy," from the player to the drum. His affection for the group dynamic of taiko is evident both when he performs at the most advanced level, and when he instructs the most novice players.
His list of "Top 3" favorite taiko pieces includes six titles:
1. Kawara
2. Oni Daiko
3. Onbashira, Tsunami, Sokobayashi, and Yodan Uchi
His other hobbies include: reading sci-fi/fantasy/spy fiction, salsa and folkloric dancing, walking though marketplaces, yard sales, and antique shops, and composing new percussion pieces. He is also an active student, teacher, and performer of Cuban and Haitian congas and djembe.
The Peacham Acoustic Music Festival is pleased to welcome Stuart Paton 
of Burlington Taiko on Saturday, August 15
---
Ethan Azarian with Timothy Briton and Franklin Heyburn
Ethan was born in Cabot, Vermont to artistic parents. His Mom is a print maker and children's book illustrator. His Dad also known as Tom Banjo is a banjo player and a cartoonist. Ethan was introduced to music and art at an early age.
Ethan was influenced and inspired by his Mom and Dad's musician friends who were playing folk music in cafes and clubs in and around the Boston area in the early 1960's (Judy Collins, Taj Mahal, Bill Keith, Ken Perlman and many others).  Musicans would come up to his Mom and Dad's farmhouse in Vermont and spend the weekend camping out and playing music late into the night.
In his early 20's Ethan and his childhood friends started the Punk Rock Band the Hollywood Indians mixing punk with Ethan's folk roots and sensibilities. They played the club circuit up and down the east coast all through the 1980's often pairing up with other bands at the time such as Dump truck, Dead Milk Men, Pixies, Phish, Volcano Sons and  Del Fuego's.
In the late 80's Ethan moved to Austin, Texas and formed the much beloved local band the Orange Mothers. Ethan and long-time collaborator bassist for Orange Mothers Jeff Johnston now play together as the duo called Two Telephone Wednesdays. Jeff often sings through a telephone and accompanies Ethan on the musical saw.    
The Bayley-Hazen Boys   
Bayley-Hazen Boys on Facebook
The Bayley-Hazen Boys take you on a rollicking ride from the hills of northern Vermont down through Americana to 
the southern Appalachians. Combining their fresh interpretation of time-tested traditional material with a wealth of original songs, these musical veterans blend soulful ballads, tight vocal harmonies, and hard driving instrumental work into a sound evoking the spirit of the early Stanley Brothers and Bill and Charlie Monroe. 
The Bayley-Hazen Boys are as authentic as their namesake - the military road constructed during the Revolutionary War from Newbury to Lowell. With an energetic and entertaining stage presence, the "Boys" add a fun element to any show. Historical stories and yarns about musicians (famous or not) provide the background to their music. Explanations of the creation of the original songs are fascinating to listen to. Audiences large and intimate, young and old will love the interaction with the band. 
Gary, Chris and Steve founded the well-known bluegrass group "Gopher Broke Bluegrass". Gopher Broke recorded three albums, appeared at festivals, public and private performances throughout New England (and beyond) from 1999 to 2009, and were recognized as "one of Vermont's genuine artistic treasures" by Bluegrass Unlimited magazine.
The Bayley Hazen Boys continue this level of professionalism with their distinctive old-time bluegrass mountain music, a style becoming increasingly scarce today.  Be sure to pick up a copy of their very well received 2013 CD "Another Blue Ribbon". 
Bluegrass Unlimited says: "

This unassuming recording grows better with each listening. It's like staring at the woods—the longer you look, the more you see. The longer you listen, the more you hear!"
The Peacham Acoustic Music Festival is proud to present our friends and neighbors - The Bayley-Hazen Boys
They will be performing on Saturday, August 15 
---
Presenting all original compositions, Aura Shards features a selection of hand pans in different keys and styles, accompanied by an assortment of percussion and drone instruments. the size and complexity of the sound belies the number of instruments involved, weaving complex soundscapes that are at once both rhythmically intricate and engaging, yet also meditative and soothing.
        The Peacham Acoustic Music Festival is pleased to present Aura Shards on                     Friday, August 14 and Saturday, August 15
---
Midnight Capers Morris & Sword
In fall of 1980 some dedicated dancers got together at a workshop on Garland dancing taught by Dr. Tony Barrand. The group kept dancing together and due to one member's dance experience the focus shifted to Cot

sw

old Morris 

dancing. After a vote to name the Team in early 1981 the Midnight Capers was born. The Midnight Capers danced several traditional Cotswold village styles until 1986 when founding member Larry Becker with choreographic help from Lisa Ginett brought out a new

 tradition called Kingsbury Branch.
The Midnight Capers have written many dances in this style and danced our own Kingsbury Branch almost exclusively since that time in many locations in New England in various performances and on many tours with other New England teams. We hope that you will enjoy our great dances!
The Peacham Acoustic Music Festival is proud to present the Midnight Capers Morris & Sword
They will be performing at mid-day on Saturday, August 15, 2019 with a demonstration in the parking lot area
 in front of the town hall at 12:15 followed by a workshop starting at 12:45
---
Rich Brown - a.k.a. The Juggler Man
The Juggler Man will return to PAMFest this year!  
 Rich Brown a.k.a. The Juggler Man, lives in the Upper Connecticut River Valley of New Hampshire and he believes 
that everybody should have a chance to learn to juggle. If nothing else, it's one way to get the cobwebs out of the brain. 
Rich has taught a lot of people to juggle – nearing a thousand over the years. It surprises people that it's possible for a "normal person" to learn a basic three-ball cascade in 20 minutes or so.  
He will be performing starting at 11 AM with his collection of 
tricks: diabolo, devil sticks, plate spinning, rope twirling, and lots more.  Look for him around the  Craft Fair/Family Tent area!